by Builder Trade In Program
Dec 21, 2016
Why going '10-over' the speed limit is now going to cost a bundle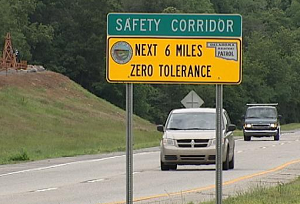 That very unofficial nine mile-per-hour "tolerance cushion" on Arizona's interstate highway system is going away by the end of the month on certain freeway segments. Arizona Department of Transportation, Department of Public Safety and Governor's Office of Highway Safety are designating 63 miles of Interstates 10 and 40, and U.S. 60 as safety corridors.
These zero-tolerance corridors will see heavy traffic enforcement efforts in an attempt to reduce the number of accidents, motorist injuries and excessive deaths.
The news from ADOT came Dec. 12, the day the first phase of enforcement went into effect for two segments on I-10.
The corridors are marked with signs at the beginning and end of the segments.
"The safety corridors will make traveling safer for everyone," said Alberto Gutier, director of the Governor's Office of Highway Safety. "If you already obey driving laws, you have nothing to worry about and can enjoy safer travel. If you speed, drive aggressively or break other driving laws, you will face the consequences of zero tolerance enforcement."
The first covers four miles of I-10 in central Phoenix from the I-17 stack, through the Deck Park Tunnel, to the mini-stack interchange of I-10, Loop 202 and State Route 51.
The second segment is on I-10 through the Gila River Indian Community covering 23 miles from Loop 202 to S.R. 187 north of Casa Grande.
A second phase will be rolled out in January. It covers 13 miles of U.S. 60 from Loop 101 in Tempe to Loop 202 in east Mesa.
The fourth safety corridor is on I-40 covering 23 miles between Kingman milepost 49 and U.S. 93, the future I-11 corridor, east of Kingman.
DPS state troopers are going to look for aggressive drivers, speeders and other traffic law violators. This means that traveling 74mph in a 65mph zone will result in a ticket. Seat belt violations will also be enforced as part of other enforcement actions.
ADOT said the corridors were selected on the basis of traffic data related to vehicle speeds, number of accidents and driver behavior. The program will remain on the books for one year to test its effectiveness in reducing accidents, motorist injuries and deaths.